Author: Rachel Caine
Publish: Berkley Publishing
Genre: Fiction, Historical Fiction, Sci-Fi
Pages: 352
In an exhilarating new series, New York Times bestselling author Rachel Caine rewrites history, creating a dangerous world where the Great Library of Alexandria has survived the test of time.…

Ruthless and supremely powerful, the Great Library is now a presence in every major city, governing the flow of knowledge to the masses. Alchemy allows the Library to deliver the content of the greatest works of history instantly—but the personal ownership of books is expressly forbidden.

Jess Brightwell believes in the value of the Library, but the majority of his knowledge comes from illegal books obtained by his family, who are involved in the thriving black market. Jess has been sent to be his family's spy, but his loyalties are tested in the final months of his training to enter the Library's service.

When his friend inadvertently commits heresy by creating a device that could change the world, Jess discovers that those who control the Great Library believe that knowledge is more valuable than any human life—and soon both heretics and books will burn…
My Thoughts:
When I requested this I knew I was going to get something different. I didn't realize how different.
Never before have I read a book like this. Where the concept that books are thee most important things in the world. Books are worth protecting with one's own life. Or that true knowledge is power and to own a book is utter treason.
There was not a single character in here who's guts I absolutely detested. Not one! Our main character, Jess Brightwell is snarky and more courageous than he gives himself credit for. Dario is an entitled douche. For no good reason he bullies Jess and the others, but even his character grew on me. Just a little. My favorite characters would have to be Khalila and Thomas. Both are very kind and very, very smart. Khalila, I picture to be absolutely beautiful. She also really knows how to handle her own. Thomas, I picture to be a big brutish looking teddy bear. He's described as very big. As in tall, muscular and seemingly unaware of it. He's basically Jess' best friend. His height is more intimidating than his personality.
I really enjoyed how ever changing this book was. I started off running form Red-Coats with Jess, to working in the Library of Alexandria while maintaining the status as family spy. I saw how brutal burners (as in book burners) can become in a war. Which I pictured as mostly grey and very smoky. Caine took me on an incredible journey. I felt anxious and huge rushes of adrenaline, I also felt the losses that Jess felt. His anger and determination. I did not however, feel his love for Morgan…….
There are a few relationships that begin to form. The relationship between Jess and Morgan felt forced. I didn't feel anything about them together except that maybe it didn't really flow. Trying to connect to them was like trying to connect to a rock, it was cold and unmoving. There was more emotion in Khalila and Dario's relationship. For example when I learned they were together it was kind of sudden and a little shocking. These two are complete polar opposites. It never does tell you what Khalila sees in Dario. However it definitely stirs up that critical thinking process. You begin to see a side of Dario that seemed non-existent. Something softer.
The third is probably my favorite relationship. However since it was a pleasant surprise for me I'll just let you discover it on your own 😉
I've read Rachel Caine's work before. Her Morganville Vampire Series was a huuuge part of my high school life. (That Vampire hype though, am I right?) Reading this book was a real treat. It's been several years since I've picked up one of her books. Her writing style was familiar and comforting. I almost forgot what it was like! Rachel Caine has this unique way of bringing to life a world I've never been to. It isn't the same as every other YA Fiction or Fantasy book. Her writing is more mature.
Recommend?
Oh hell yes. This is not just a book for those who love reading about magical libraries. There's something here for everyone. Dystopian lovers, steam punk lovers, alchemy lovers, historical fiction lovers! This book is the whooole enchilada.
Rating:
*I received this book from Blogging for Books in exchange for this honest review.*
About Rachel Caine: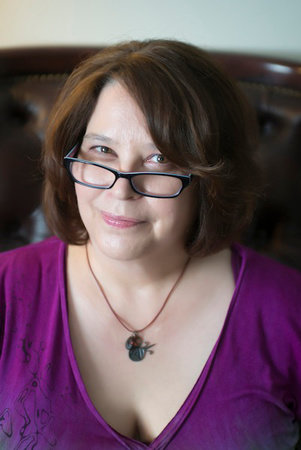 Rachel Caine is the New York Times, USA Today, and international bestselling author of more than 40 novels, including the Great Library series, Prince of Shadows, the Weather Warden series, the Outcast Season series, the Revivalist series, and the Morganville Vampires series.
You can get your hands on a copy from any of these sites 🙂
Amazon|Barnes and Noble|Random House